Thailand glider club
Thailand Glider Club is a voluntary run organisation dedicated to improving Paragliding and Hangliding activities, for locals and visitors, within the Kingdom of Thailand.

The club was formed in 1988 from a few pioneering Thai pilots, Namely Suwat Hannarong (The first to fly a paraglider in Thailand) and Narint Lohathong (the second) plus a few other helpers, who have discovered all the flying sites now in Thailand. Now TGC hosts a President, Vice-presdent, secretary and various other officials. At the time of writing this, the club has over 50 flying local/visiting members.

TGC is liasing with Sport Flying Association Thailand (SFAT) who in turn report to Department of Aviation. In the future, when funds are available, TGC hopes to join the FAI

The club is currently working on a qualification scheme for student pilots that will be internationally recognised and there are plans for the first offical TGC school, clubhouse and shop.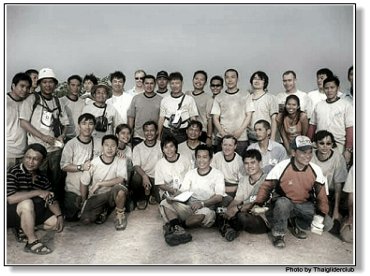 Club Officials 2005
PRESIDENT - Oubaur Kruthanooch
VICE PRESIDENT - Supat Pitikarm
VICE PRESIDENT - Niphon Terkchareon
CLERK - Chalaikorn Morhatmat
CORRESPONDENCE OFFICER - Nirun Roopradit
SAFETY COMMITTEE - Mr. Philippe Gravelin
HONORARY PRESIDENT - Narint Lohathong
Paragliding News
Paragliders fish from 500 feet above the Black Sea

Interesting angle! Daredevil duo come up with a new way to catch lunch while tandem paragliding 500ft above the Black Sea - and they even hook FOUR fish as they enjoy a cuppa and the view Fishing has been brought to new heights in a video taken by two paragliders casting their lines into the Black Sea while drifting 500 feet in the air near northern Turkey. The two men are seen hanging in the air above a coastal area with a picnic table and bait bucket sandwiched between them.

Paraglider pilot injured after crashing into Norfolk B&B

The daredevil smashed into the chimney of Wellington House in Cromer, Norfolk, before plunging to the ground as shocked guests looked on. The victim, who's not been named, suffered serious injuries to his arm and head in the freak crash just before 1.15pm.

Five epic ways to experience a golden fall in Aspen

The term "leaf peeping" was born in New England, but when a town is named after a tree itself, it's a clue that the popular autumn pastime is just as good - dare we say better - than anywhere else. Coloradans and droves of visitors go crazy to catch the fall colors, which peak in Aspen in late September.